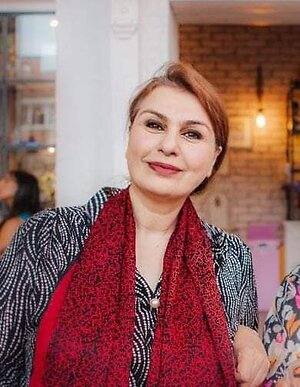 I cannot recommend Saira highly enough. I saw Saira, in her beautiful treatment room in Rickmansworth, for CBT, hypnosis and EMDR in order to help me with insomnia, caused by stress during a difficult time, which was affecting my ability to function. Saira's professional, gentle manner immediately reassured me. She provided a safe space to talk openly and showed endless patience and understanding. Following Saira's expert advice and the practices that she taught me, I was able to make changes to improve my sleep patterns drastically. We also worked more deeply to deal with some challenging issues. Saira's help has been invaluable. I highly recommend her as she is kind and empathetic whilst also being professional and getting results. Saira is very approachable and easy to talk to and I have found my sessions with Saira to be incredibly beneficial.
TM, Chipperfield


'During my final year at University, my anxiety and depression was at an all time high. The stigma surrounding mental health issues made it hard for me to find the support I needed.
I didn't want to rely on medication to help me get through the day. I wanted to be able to conquer my issues 'naturally', and so, I decided to research different forms of therapy that would help.
I had no knowledge or experience of hypnotherapy, and which hypnotherapist to go to was very much a shot in the dark for me. I was very, very fortunate to choose Saira Hasan.
After our first session, I felt as though the dark cloud that had followed me for years had begun to drift away. I had forgotten what it felt like to have hope.
It was immediately made clear that Mrs Hasan was not only very well qualified in her field, but was well versed in the latest research and was willing to employ new and different techniques tailored to suit her clients. An extremely empathic and friendly person, she immediately made me feel comfortable and able to speak freely about the issues that had been haunting me. She explained what could be quite complex concepts in simple terms, without ever making me feel overwhelmed.
Not only did she provide excellent guidance during our cognitive sessions in person, Mrs Hasan is always available via email to help with any current issues I am having.
Since our sessions I have no hesitation in saying that I have made tremendous improvements and have only Mrs Hasan to thank.
I cannot fault her on any level and I highly recommend Saira Hasan to anybody experiencing issues with social anxiety, fears/phobias and breaking bad habits.
MZ, Canterbury


I went to see Saira for weight loss before my daughter's wedding. I wanted to lose weight fast before the big day and fit into my special dress. She was very professional and explained everything to me very clearly and gave me every opportunity to ask questions. I saw her for over a number of sessions and she used CBT and hypnotherapy to create an aversion to sugary foods ( I used to feel nauseous whenever I reached out for cake) , overcome mindless eating, instilled conscious and subconscious affirmations and finally did virtual gastric stapling surgery to help me achieve my goal weight. I felt really confident and happy on the big day and I have Saira to thank for that! I highly recommend her for weight loss and confidence building.
AA, London.


Saira has such a lovely calming voice you can't help but feel more relaxed just talking to her. I have one of her relaxation tapes and it has really helped me to get a better quality of sleep that has improved my energy levels during the day. Truly grateful to have connected with her.
DE, Northamptonshire


I've had a few sessions with Saira Hasan and she has really helped me to improve my self-talk and confidence. Saira has such a lovely approach and just listening to her voice makes me feel better. It's really hard to explain, however, if you need help with untangling the mess in your mind, then reach out to Saira, she has many tools that she can use to help you.
AP, Hatfield

I am indebted to how Saira has made me achieve a new mindset in many ways.
I knew from the outset that I would benefit from Saira's sessions, which have been exceptionally helpful and useful in my daily life, consciously and subconsciously. Thank you is not enough. ?
SP, Croxley Green

I found Saira to highly compassionate and professional. She explained what was going to happen in the session very well and took me down the journey of hypnosis in a very reassuring manner. I wouldn't hesitate to recommend her.
FN, Golders Green

We were fortunate enough to have Saira host a workshop in Toronto for a group of 15 employees. She did an amazing job introducing the topic to us and was extremely informative. Hypnotherapy was a new experience for most people in the room, and Saira was incredible in answering everyones' questions. The hypnotherapy itself was a very interesting and cathartic experience. Everyone left that session learning something new about themselves. She also provided very useful tips for our group, as one of the topics we normally discuss is workplace stress and burnout. Even now, I get feedback that the people who attended her session follow the tips she gave to help manage their stress. We would love to have Saira back and run more sessions. It was such an awesome and eye-opening experience for us.
Arunie Saldhi, Manager of Client Experience & Chair of Mental Health at Wealthsimple, Toronto, Canada

Many thanks for the wonderful journey we had over the last few weeks, it has been transformational and now i look at the same things in a very different way and a very positive attitude .


I had been suffering from anxiety and depression and one of my close dear friend recommended Saira Hasan and I never looked back.

i found Saira very understanding with immense insight in dealing with people like myself. Saira made me very comfortable, and we developed a very good rapport very earlier on in our journey, she is good listener and has compassion and lots of empathy.

i found her sessions very professional and on time and each session helped me to cope with my day-to-day anxiety.

Saira is very approachable and flexible and was able to rearrange the sessions at a convenient time during any unforeseen circumstances.

The aspect of Hypnosis was new to me, so I was very apprehensive at the start but iI found the Hypnotic sessions very pleasant and most relaxing and i use them for my day to day anxiety.

i now have a very positive attitude to life and have learnt that even with difficulties in our daily life we need to change the way we think and perceive and live a happy contended life.

I would strongly recommend Saira Hasan to anyone suffering with anxiety or depression and i am certain the journey will be very rewarding and end up in a very positive outlook to life.
Dr. Munawer Sheikh, Birmingham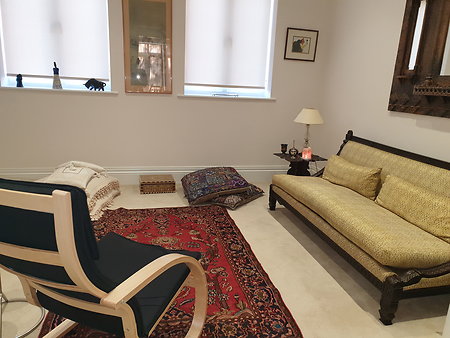 My calming treatment room...